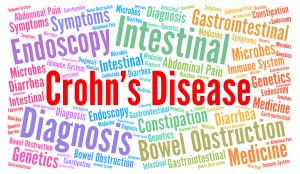 Crohn's disease is a type of inflammatory bowel disease (IBD). It causes inflammation of your digestive tract, leading to abdominal pain, severe diarrhea, fatigue, weight loss, and malnutrition. Inflammation caused by Crohn's disease can involve different areas of the digestive tract in different people, and this inflammation often spreads into the deeper layers of the bowel.
Crohn's disease can be both painful and debilitating and sometimes may lead to life-threatening complications. While there's no known cure for Crohn's disease, therapies can significantly reduce its signs and symptoms and even bring about long-term remission and healing of inflammation. With treatment, many people with Crohn's disease can function well.
Symptoms
In Crohn's disease, any part of your small or large intestine can be involved, and it may be continuous or involve multiple segments. The disease is confined to the colon in some people, which is part of the large intestine.
Signs and symptoms of Crohn's disease can range from mild to severe. They usually develop gradually but sometimes will come on suddenly, without warning. You may also have periods of time when you have no signs or symptoms (remission).
When the disease is active, signs and symptoms may include:
Diarrhea
Fever
Fatigue
Abdominal pain and cramping
Blood in your stool
Mouth sores
Reduced appetite and weight loss
Pain or drainage near or around the anus due to inflammation from a tunnel into the skin (fistula)